RMC Membership is now due for the 2020 season and is being held at the same price once again.  Please download and complete a membership form from here:  RMC Membership Form 2020  and don't forget you will also need an ACU licence which stays at £12 again this year.  More details on ACU licences etc are on the membership page.   A list of provisional 2020 dates can be downloaded here:  Richmond Motor Club Dates 2020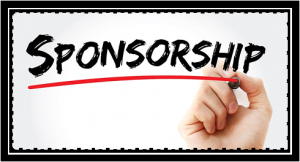 Richmond Motor Club would like to open applications for Sponsorship towards the 2020 ACU  Trials Championship.  RMC members can apply for sponsorship by filling in the application form which can be downloaded here:  Richmond Motor Club Application for Sponsorship 2020
We are very committed to helping our Youth and Adult riders in the 2020 Season and look forward to receiving you applications.  Riders who are successful and commit to riding the full season will receive entry fee reimbursements plus an RMC Jacket and Cap to wear with pride at the trials.
Events and Trials in December:-  Please check the website before setting off for any event
Easy Clubman and Youth Xmas Trial on Saturday 7th December at Swan Farm, Redmire, catering available at the start.  You can download your entry form here:  Entry Form 2019 Xmas Trial – Swan Farm  and regs here:  Swan Farm 2019 Supplementary Regs – Xmas  Start time is 11.30.
Landowners Lunch – Sunday 8th December 2019 Tennants, Leyburn.  An opportunity for the club to host a lunch to show our gratitude to the landowners, farmers and gamekeepers who give us their continued support throughout the year.  All those wishing to attend should now have sent in for tickets (Committee members please let Anne know if you haven't already if you want tickets) – any queries please contact Anne Weatherill on 01677450143
Youth Awards Presentation is on Sunday 15th December 2019 at The Cricket Club, Richmond at 4.30 pm – : Details below: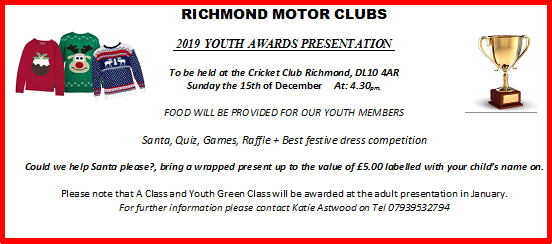 Albert Shaw Boxing Day Trial on Thursday 26th December 2019 – our final championship round for adult and A and Youth Green classes.  You can download an entry form here:  Entry Form – Albert Shaw 2019  and regs here:  Supplementary Regs – Albert Shaw 2019
Adult Presentation Evening is on Friday 17th January 2020 and tickets are only £12 for Pie, Peas, Mash and Sticky Toffee Pudding and are available to buy at all out RMC events – : Details below: