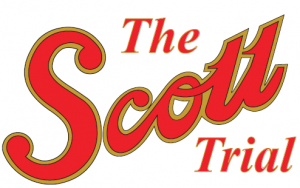 With just 3 1/2 weeks to go to this years epic Scott Trial the Clerk of the Course and helpers have been out sorting out the course.  Paul has this message:
"For all those trials riders who have had any problems in the past in Fagger Ghyll this photo shows the extent of the storm damage, this is where that picturesque bridge was at the top of the ghyll, where we used to get out to the right. Sadly the bridge now is in a hundred bits and has left a gorge approx 30 feet deep, so safe to say we aren't going there!
But don't worry as we have found lots of new gullies and streams to ride up to help make the Scott trial a very special event once again."
Clerk of the Course Paul.
There are still rides available if you fancy a go.  Just email scottsecretary@richmondmotorclub.com