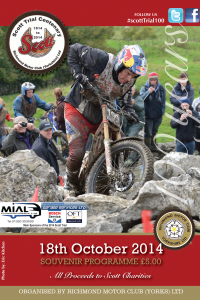 Here is a very special preview of the much awaited Centenary Scott Trial Programme, which this year is a full colour edition.  Editor Julia Robinson has been working hard to produce this great programme which will be a real collectors item and essential for your viewing on the day.
Programmes will be available exclusively at the Scott Trial Centenary Dinner on 3rd October and then from the usual outlets from the 4th and 5th – Richmond Petrol Stations, Richmond Garage Services, The Food Weighhouse, Cross Lanes Stores, Smith and Allan in Darlington, Piercebridge Farm Shop, and the usual Reeth outlets for £5. You can also order now by emailing Julia at scotttrial100@gmail.com (£6.50 including postage).
As always all profits will go to The Scott Charities.