Last night Richmond Motor Club's Scott Trial presented its annual Charitable Donations totalling £16,300 following the success of the 2014 Centenary Trial.
Scott Trial Chairman John Fraser spoke about the trial, thanking all those involved in its organisation and to all the landowners.  Nigel Mackenzie, representing the Centenary Scott Charity Relay Team, presented cheques in excess of £4,000 raised by the team to the Great North Air Ambulance and the Yorkshire Air Ambulance. The relay team included Vrjo Vesterinen, Trevor Willans, Joe Buckworth, Glen Scholey, Mark Willis and Carl Tennant.    Treasurer Richard Hague presented cheques to the many local charities and causes. These included, in no particular order:
Swaledale Scouts, Swaledale Mountain Rescue, Reeth & Gunnerside Primary Schools, Ravensworth C of E School, Arkengarthdale Primary School, Yorkshire Air Ambulance, Great North Air Ambulance, Leyburn CP School, Reeth Young Farmers Club, Swaledale Seedlings Playgroup, St Johns Centre, Royal Agricultural Benevolent Fund, Friends of the 2 Dales Nursery, Hambleton & Richmondshire Multiple Sclerosis Society, Swaledale & Arkengarthdale Luncheon Club Association, Richmond Cricket Club Youth Section, The Moorland Association, St Teresa's Hospice, DELTA, Holmedale Pre-School, Richmond Cricket Club, Wensleydale Rugby Club Development Fund, Gamekeepers Welfare Trust, ACU Benevolent Fund, Mowbray Suite & Alistair Bullan Memorial Fund at The Friarage Hospital, Marrick Parish Council for Marrick Institute Fund, Robert Dent Memorial Fund and H & R Carers Centre.
A presentation and thanks were then made to Chris Wallis, retiring Scott Trial Secretary, for all her hard work and dedication, particularly for her extra commitment to celebrate last year's Centenary Trial.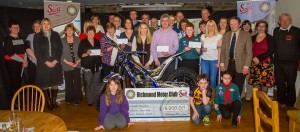 Photo Courtesy of Neil Sturgeon