A quick reminder for our Easy Clubman and Youth Xmas Trial on Saturday 8th December at Swan Farm, Redmire, you can download your entry form here:  Entry Form – Christmas Trial Swan Farm 2018 Start time is 11.30.
Please check the website in case of any changes
Landowners Lunch – Sunday 9th December 2018 Tennants, Leyburn.  An opportunity for the club to host a lunch to show our gratitude to the landowners, farmers and gamekeepers who give us their continued support throughout the year.  All those wishing to attend should now have received their tickets – any queries please contact Anne Weatherill on 01677450143
Adult Presentation Evening is on Friday 18th January 2019 and tickets are only £12 for Pie, Peas, Mash and Sticky Toffee Pudding and are available to buy at all out RMC events – tomorrow onwards: Details below: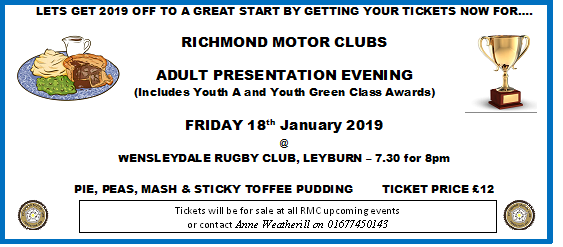 RMC Membership is now due for the 2019 season and is being held at the same price once again.  Please download and complete a membership form from here: RMC Membership Form 2019  and don't forget you will also need an ACU licence which has gone up to £12 this year.
Finally we have 2 trials in December –  Our Easy Clubman and Youth Xmas Trial on Saturday 8th December at Swan Farm, Redmire, you can download your entry form here:  Entry Form – Christmas Trial Swan Farm 2018
Albert Shaw Boxing Day Trial on Wednesday 26th December 2018 – our final championship round for adult and A and Youth Green classes.  You can download an entry form here:  Entry Form – Albert Shaw 2018  and regs here:  Supplementary Regs – Albert Shaw 2018