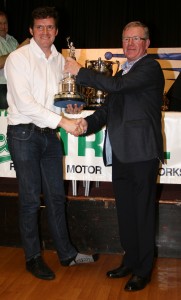 Many Congratulation to this years Scott Trial Winner –
Dougie Lampkin (hope the toe recovers quickly!)
Also well done to all those riders who took part and achieved their own personal goals
The full set of results are available to download here:
Spoons and Final Results     Special Awards 2013
The eagle eyed amongst those who attended the presentation evening will notice that there are fewer finishers on this set of results.  Due to a system glitch, 9 riders previously listed were actually out of time.  Apologies to Ben Sprigg who was down as the last official finisher time on the provisional results but was actually out of time.  Boyd Webster now becomes the last official finisher on time
Many, many thanks also to all those involved with the running of the trial, far too many to name and the landowners, without whom we would not be able to hold the best one day trial in the world!
The landowner whose field the trial starts in lost their sheepdog yesterday between 12 and 5pm, if anyone saw a  sheep dog around the area or has any information please contact Chris Wallis the secretary as obviously they are desperate to see her returned.