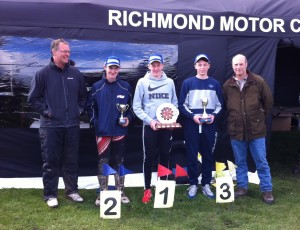 Many congratulations to all the riders taking part in today's Mintex Youth Time and Observation Trial, what a great day's sport even though it was a little wet and cold at times.  Well done to Joe Dawson the overall winner.
Results for the trial are available to download here:    Mintex 2015 – Awards
Mintex 2015 – Section by Section Analysis            Mintex 2015 – Times
Thank You's  Richmond Motor Club would like to thank the Landowner, Observers, Clerk of the Course and helpers, Secretaries, Swaledale Mountain Rescue and anyone else involved in the running of today's trial, too numerous to name – you know who you are.   Without such a large and organised team we would not be able to run this special trial.
Our next trial is an easy Clubman/Youth Trial on Saturday July 11th at Applegarth.