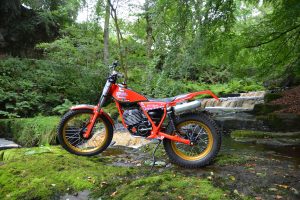 A reminder that Richmond Motor Club has the Kia National Twinshock Trials Championship Round 8 on Sunday 15th September at The Old Mill, Low Row, Richmond, N Yorks. DL11 6NH at 10.30am. Entries close on Thursday 13th September, so you still have time to send yours in now – see links here:
RMC Kia National Twinshock Round 8 entry form 15.09.19
RMC Kia National Twinshock Round 8 Supplementary Regs 15.09.19
The Kia Twinshock Trial will consist of 2 laps of 20 sections with a variety of sections, predominantly becks and of course with the stunning backdrop of beautiful Swaledale.   Andrew Brown (AG) is Clerk of Course and the trial runs in his neighbouring area.
Catering will be available on the day by The Roast Inn.
The Twinshock series is sponsored by Kia Motors UK and there will be a prize draw for observers including 3 prizes of £100, £50 and £25 and other prizes for the majority of observers.  Anyone wishing to observe, please contact Andrew Brown at gebrownson@f2s.com or tel: 01748 886356.
There will also be a charity fun trial on Saturday 14th September at 3pm, run by Darlington Motor Club, enter on the day.
Camping available on the start field with basic facilities, donations from this will also go charity.
We will be having a social get together on the start field on Saturday evening after the fun trial, so come and join us for a few drinks and also catering will be available from Beavers Butchers, including burgers, sausage, chicken and pizza.
If you need any further information please contact Andrew or Ros Brown at gebrownson@f2s.com or telephone 01748 886356.
We look forward to seeing you for an enjoyable weekend of riding and socialising!