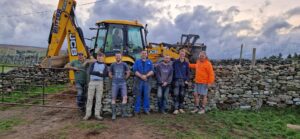 We have been busy preparing for the Mintex, not only have the team been putting flags in they have improved the start field entrance, RMC would like to thank Graham Rutter for providing the machine and Micheal Wilson for donating a new gate and all the helpers.
Please find attached Final Instructions and Entry List.
Camping will be available from Saturday afternoon in the start field, thankyou in advance for keeping off the course.
Mintex Trophy Trial Final Inst
If you have any queries or worries contact Sandra on tel: 01969 624146