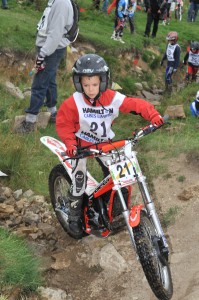 The Richmond Motor Club is launching a 'Richmond Motor Club Youth Academy' with the support of national S3 Parts Champion, Richard Sadler as a trainer.
Youth riders will be chosen by Richard, in small groups, the first group of six riders have already been chosen and have received their invitations. The pupils will have their first two days of training in January. Youth riders will become aware of the academy and it will be something for them to aim for, throughout the next trialing year.
The academy will only be open to current Richmond Motor Club members. The aim of the academy is to further support riders who Richard, and Richmond Motor Club, feel have a lot of potential and we believe could be appearing on national podiums! During the academy training Richard will not only be training the youth riders on their bikes, but also spend time discussing theory. It is excellent that Richard has volunteered his time to this academy project, and put something back in to the club and his chosen sport! Richard has asked James Stones to assist him, and act as a marshall for the training. It will be two days of concentration with no other attractions.
The organizers will be considering the next six pupils for selection and invitation. The Academy is studying results and form, plus attitude before they make any decisions  The selection process will in the future take in all youth classes and age groups.
Article and Photographs courtesy of Barry Robinson