We are saddened to hear that Trials enthusiast Peter Young passed away peacefully early yesterday morning, following a short battle with cancer.
Many of you will have known Peter as a keen supporter of trials in the North East.  Peter loved attending Richmond Motor Club trials, including the Reeth Three Day Trial and his favourite The Scott Trial.  He was also a sponsor of the RMC Ladies British Championship awards for many years.  Peter was often a friendly face to be seen at numerous other trials, including the Cleveland, Wainwright, White Rose and further afield at The Scottish Six Days Trial, always with a smile, giving encouragement and support to riders.
He will be missed by us all in the trials fraternity.
Peter's funeral will be held on Monday 3rd October at Darlington Crematorium, 11:45.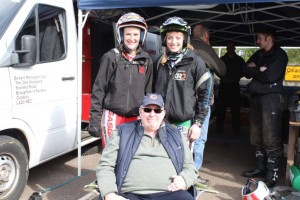 Photo courtesy of Angela Sunter