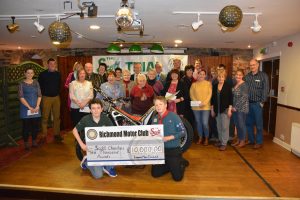 Richmond Motor Club's Scott Trial committee were pleased to host their annual Charity Presentation evening on Friday 8th March 2019 at The Buck Hotel, Reeth.
The evening started with John Fraser, Scott Trial Chairman, welcoming everybody and giving a résumé of the history of The Scott Trial and how Richmond Motor Club came to take on the running of it some 28 years ago. John thanked all involved in the running of the Scott Trial and also the landowners, tenants, farmers and gamekeepers for their continued support. He then introduced local trials legend Richard Sunter who, along with his family, has competed in numerous Scott Trials.
Richard presented the cheques to representatives of the various charities, many of whom expressed their gratitude and explained how the donation would be used.
A total of £10,000 raised from the 2018 Trial was given out on the night. This brings the grand total of charity money raised by the Scott Trial since RMC took it on in 1991 to a fantastic sum of over £180,000.
Beneficiaries of this year's donations are (in no particular order):
Swaledale Scouts, Swaledale Mountain Rescue, Friends of Reeth and Gunnerside Primary Schools, Reeth and Gunnerside Schools Fund, Ravensworth C of E Primary School, Yorkshire Air Ambulance, Great North Air Ambulance, Reeth Young Farmers Club, Swaledale Seedlings, The Bridge (previously St. Johns Community Centre), Royal Agricultural Benevolent Institution, Hambleton and Richmondshire MS Society, Swaledale and Arkengarthdale Luncheon Clubs Association, Richmond Cricket Club Youth , Moorland Association, St. Teresa's Hospice, Deaf Education Through Listening and Talking, Holmedale Pre-School, Richmond Cricket Club, Wensleydale Rugby Club Development Fund, Gamekeepers Welfare Trust , ACU Benevolent Fund, The Mowbray Suite at the Friarage Hospital, The Alistair Bullen Memorial Fund, Homestart, Just The Job, Robert Dent Memorial Fund, Marrick Parish Council Village Hall Fund, The British Lung Foundation, Reeth & District Community Transport Ltd, Rape & Sexual Abuse Counselling Centre CIO, Dementia Forward, Upper Wensleydale Sports and Recreation Association and Reeth Literary Institute Trust.
Photo and report: Charlotte Brown