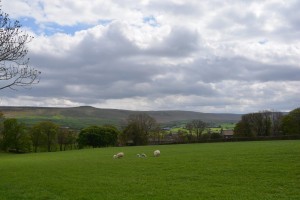 Another great Start Field with a view in Carlton in Coverdale for todays trial!
The provisional results are available to download here:  Gerald Simpson Provisional Results 2016
These results are provisional – contact Chris Wallis on 01748825844 for any queries.
Thank You's :  Richmond Motor Club would like to thank the Landowner, Observers, Clerk of the Course and helpers, Secretaries and anyone else involved in the running of today's trial. Also thank you to all the riders for entering and taking part.
FUTURE EVENTS:
Blue Bar 2 Day Trial at Horse House Coverdale 28th and 29th May 2016 – Places still available –
Mintex Youth Time & Observation Trial at Hurst 19th June 2016 – Places still available     Closing Date 9th June 2016
Youth Training School 27th & 28th July 2016 – Cogden Hall, Grinton Places still available .  Closing Date 27th May 2016
CHANGE OF VENUE – 5th June 2016 – Easy Clubman/Youth Trial – Now at Kirby Hill – DL11 7JH (Not Crabtree)