Richmond Motor Club 2018 Membership is now due.  Please could you complete and send in your membership forms to our membership secretary Mrs Suffell (01325 378511) as soon as possible.
RMC Membership Form 2018         Richmond Motor Club Dates 2018
For ACU membership please click on our Membership Information useful page for both RMC and ACU forms.
Forthcoming Trials
Eric Ridley Memorial Trial ( Adults/Green/CM/A Class) – Sunday November 19th at Hurst DL11 7NW.  10.30 am start. Some new sections at this final Championship trial of the year.  Catering will be available at the start.  Don't forget to return any RMC trophies to the Secretary ready for the Presentation Evening.  Entry form can be downloaded here:  Entry Form – Eric Ridley 2017
Easy Clubman and Youth Christmas Trial – Saturday 9th December New Venue – Swan Farm, Redmire, DL8 4HA.  11.30 am start.  Catering will be available at the start.
DONT FORGET YOUR TICKETS FOR THE RMC FARMERS DINNER &PRESENTATION EVENING – SATURDAY 2nd DECEMBER 2017.  Join us at The Garden Rooms, Tennants for what will be a great evening to celebrate another year of Richmond Motor Club Trials and thank our Landowners, Farmers and Gamekeepers for their continued support.  Details can be downloaded here:  2017 Dinner Dance Flyer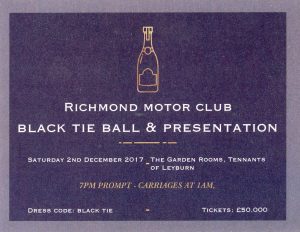 Youth Presentation on Sunday 10th December 2017 – Join us for a great party to celebrate the 2017 Youth Trialing Year at The Cricket Club, Richmond.  Details can be downloaded here:  2017 YOUTH PRESENTATION