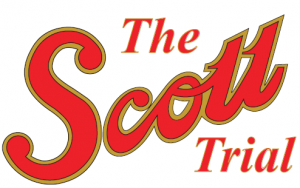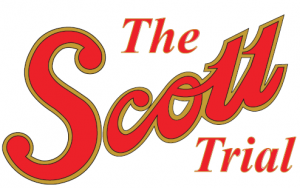 On Friday 23rd March at The Buck Hotel Reeth, the Scott trial charity donations were given out to many local recipients.
The evening began with vice chairman Bruce Storr welcoming everyone and saying how the Scott is renowned as being the hardest one day trial in the world.   He then went on to say this year's winner was the 41 year old legend Dougie Lampkin winning the trial for a 5th time, and then he introduced 21 year old James Stones who was Richmond Motor Clubs top performer in the 2017 trial with a very creditable 3rd place.  James was also the best rider on observation on the day, a very difficult feat and one to be proud of.  James, then presented the cheques to the various charities, a number of which explained how the money would be spent.
A total of £10,000.00 was  given out on the night  this year, and a further £1320  was raised by others for charities at the trial. This brings the total to over £170,000 since Richmond Motor Club took over running the trial in 1991.
Many thanks to all who help and sponsor the  trial, far too numerous to mention, and thoughts now turn to this year's event which is on 13th  October 2018, a week earlier than normal.
An excellent buffet then followed and general chat among those attending many of whom come each year to the presentation.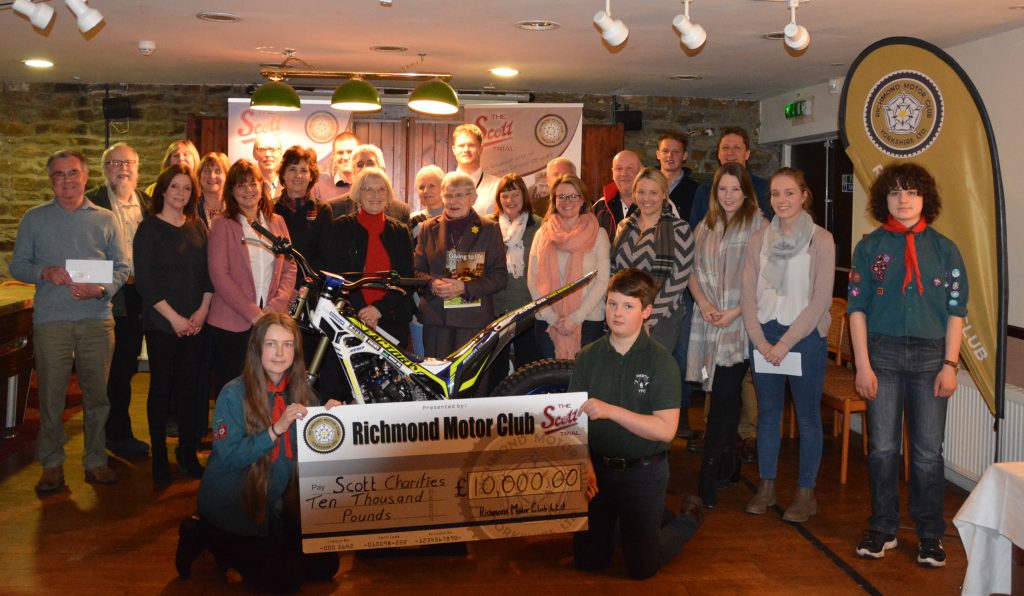 The list of recipients are as follows (in no particular order)
Swaledale Scouts, Swaledale Mountain Rescue ,Friends of Reeth and Gunnerside Primary Schools ,Reeth and GunnersideSchools Fund, Ravensworth Primary School ,Arkengarthdale Primary School, Yorkshire Air Ambulance  ,Great North Air Ambulance, Reeth Young Farmers, Swaledale Seedlings, St.Johns Communiy Centre ,RABI  ,Hambleton and  Richmondshire MS  Society,  Richmond Cricket Club youth ,Moorland Assoc, St.Teresa,s Hospice, DELTA, Holmedale Preschool ,Richmond Cricket Club, Wensleydale Rugby Club Development Fund,  Gamekeepers WelfareTrust ,ACU Benevolent Fund, The  Mowbray Suite at the Friarage Hospital,  The Alistair Bullen Memorial Fund,  Homestart, Just The Job ,Robert Dent Memorial Fund,  Marrick Institute, The British Lung Foundation,Ring to Ride Community Transport and Reeth Literary Institute Trust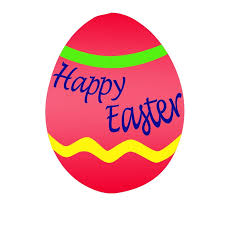 As always Easter Weekend is a busy time for RMC, with 2  trials being held in Swaledale & Richmond.  Information below
* Good Friday (30th March 2018) – Sid Morton Memorial Trial – Fremington Edge, Nr Reeth, DL11 6AU.  Classes for Adults/Green/Clubman, A Class and competent B Class only.  10.30 am start, Catering available at the start.    Entry is on the day but you can get ahead and fill an Entry Form by downloading it here:    Entry Form – Sid Morton 2018
* Easter Monday (2nd April 2018) – Easy Clubman and Youth Trial – Iron Banks, Richmond, DL10 4SJ.  Classes for Clubman/All Youth and Small Course (No hard course Non Competitive as competent B can ride on Good Friday).  10.30 am start.   Catering available at the start field.  Entry is on the day but you can get ahead and fill an Entry Form by downloading it here:  Entry Form – Iron Banks Easter Monday Trial 2018