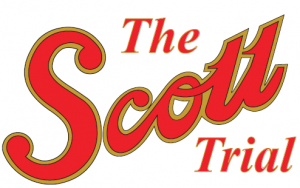 With just under 3 weeks to go, Scott Preparations are well on the way.  Once again we are not emailing out the numbers and final instructions this year, but you can download a list here:  Scott 2021 – Rider List for Website    Please take a good look at the list of riders, numbers and start times to make sure that you know what time you are setting off and to get the right number on your petrol cans.  The new Clerk of the Course has requested that the winner of the previous Scott Trial is last man away each year.
Also please make sure that you read the Final Instructions – this is very important as there is essential information to make sure that you know exactly what is expected on the day and the run up to the day etc, and they have changed from previous years.  Riders are asked to note that due to COVID restrictions there will be NO drinks provided at petrol stops and riders are asked to bring their own.    When signing on you will be asked to sign saying that you have read and agree to these instructions:  Scott Trial Final instructions 2021
Finally don't forget that the Official Scott Trial Programme will be available on Saturday 2nd October so make sure you get yours (riders you will get one in your rider pack on the day).  It contains loads of great articles, spectator information and maps of where to go to get the best out of your day and all proceeds will go to The Scott Charities as usual.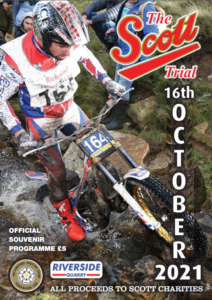 The programmes will be available at the start-field on the day and from the usual local outlets prior to the event. These include: Brookes Garage Richmond; CJ Tennant, Richmond;  Neeps & Tatties, Richmond;  Smith and Allan, Darlington; Piercebridge Farm Shop; AG Bikes, Low Row;  and all the usual outlets in Reeth and Swaledale.
Why not pre-order your copy by post now, the cost is £7.00 including the postage and packing.   This can be done by e-mailing your request to: shelly@mgrant1.plus.com  Please make the subject line of your e-mail: 'Scott Trial 2021 Programme Order'; payment details will be made available by e-mail reply.