Another great weekend at the RMC annual Blue Bar Trophy Trial.  2 great days trialing in Coverdale just a shame the weather couldn't match!  Sorry the results are later than normal but the results secretary was off on holiday.  The Provisional Results and Awards are available to download here (updated 29/5/19 for class error):  Blue Bar Trophy Trial Provisional Results 2019   Blue Bar Awards 2019-Awards
Congratulations to James Noble for winning the Blue Bar Trophy this year.
We have had some great comments from riders this year, so spread the word and remember to get your entries in early next year.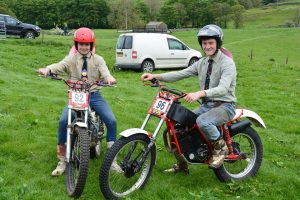 Many thanks as always to all who helped this weekend, Clerk of the Course and helpers, observers, secretaries (thanks to Sandra for taking on the Secretaries job for the weekend) etc its much appreciated and thank you to the landowners and riders for making it all possible.
Future Events
 Easy Clubman/Youth Trial – 2nd June 2019 – Crabtree, Gilling West – DL10 5JD – 10.30am Start – Catering at the start field.  All the usual courses and classes plus there will be a non competitive harder course for those wanting to test themselves.
Mintex Youth Time & Observation Trial at Hurst 23rd June 2019 – Places still available – Pre Entry so download and send in your entries asap.